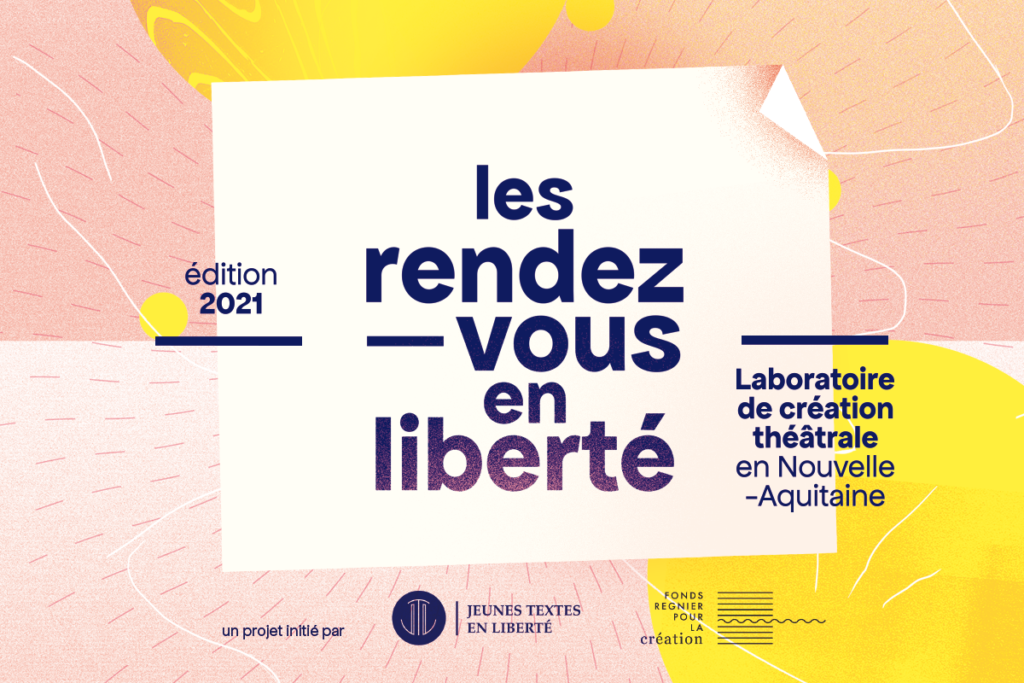 LES RENDEZ-VOUS EN LIBERTE
The Rendez-vous en Liberté project was born from a beautiful encounter with the label Jeunes textes en liberté, which has been working since 2016 for a greater diversity in contemporary writing.
In July 2021, we are launching a new call for projects aimed at directors and radio producers in New Aquitaine, inviting them to discover three contemporary authors selected by the label.
The objective is to encourage the meeting between the author and the artistic team to allow the production of new texts.
A program in 5 steps with accompaniment:
Discovery of 3 original texts selected by the reading committee of the Label Jeunes textes en liberté

Atypical meetings with the authors

Public readings

Creation residencies

Focus on the 3 creative projects in order to promote their production and distribution
Through this program, we want to offer regional companies a paid program that allows them to meet an author, to explore his or her text through a public reading, before committing to a residency and benefiting from tools and networks that could be beneficial to the production of a future staging project. We believe in the sincerity and reciprocity of the encounter. Here, the adventure continues, if and only if the author and director/radio producer have a common desire to create together.
The authors participating in the Rendez-vous en liberté:
Claire Audhuy– author winner JTL 2018
Mon nom est Rom. One night. Infinitely too long for Younger Son and Younger Son who want to bite the honor. Far too short for Daughter who would like to fix everything with Father. It is already too late for Mother: by dint of not saying anything, one becomes mute for good. As for Elder Son, he opens the windows of the universe wide.
Geoffrey Dahm – author winner JTL 2021
In Il fallait qu'on nous sauve, Evan, back at his mother's house after being in prison, finds himself confronted for the first time with the reality of the outside world. Between memories of the past and difficulties in reconstructing an image and a future, he will try to exist in the eyes of others other than through his past faults.
Lucie Verot– author winner JTL 2021
Jeune qui veille. Guyana. The young Matilda and Yan are great friends. One evening, Yan invites Matilda to a spirit summoning session. But nothing goes as planned and the old Myrtha, found dead in her house a week before, enters Yan's house. She has run away from the municipal funeral home; she knows that she is to be buried the next day in the pauper's plot. She refuses this and comes to ask for a burial worthy of her.