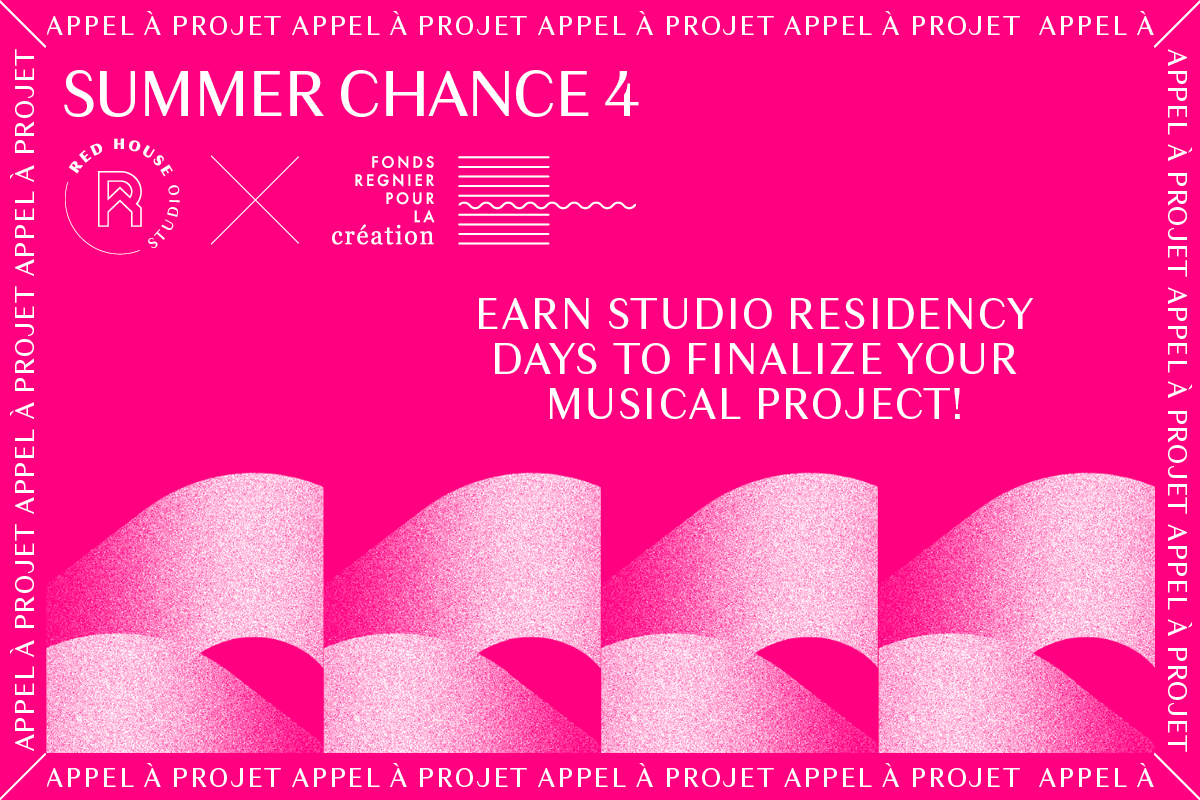 EARN STUDIO RESIDENCY DAYS TO FINALIZE YOUR MUSICAL PROJECT!
We are pleased to announce a new edition of "Summer Chance" this year from January 20 to March 5, 2023.
You're a musician? You have a band? You have an EP project that you want to record? The Red House Studio and the Fonds Régnier pour la Création offer you the opportunity to realize your project in professional conditions by launching a call for applications dedicated to musical creation.
Our vision? To help the emerging scene and support artists, bands and talented musicians who wish to realize a musical project.
What does it mean in concrete terms? Our selection committee, composed of music professionals and enthusiasts, will choose the winners at the beginning of the spring (interviews with the pre-selected bands will be scheduled from April).
The selection committee will pay attention to the following criteria:
to be in a stake of entry in the professional environment
to be an independent group and without editorial support
to have an original musical project ready to be recorded (EP – 5 tracks max), whose release is planned at the latest in January 2024
composition, writing, instrumental performance/singing
conformity of the application file
The winners will receive :
Recording, Mixing & Mastering

to be done at Red House Studio between between June 1 and August 31, 2023.
Take your chance! Submit your application to summerchance@pourlacreation.fr before March 5, 2023.
With the following informations:
Your band name
Web links to 2 original tracks of your EP
The composition of the band (surnames, first names – instruments played)
Your contact details (phone, e-mails)
The date of creation of your band and a short biography (including production history: concerts, recordings…)

specify if the band has taken the step to form an association

The description of your musical project in a few lines (style of music, number of tracks on the EP, planned release date, objectives of the project in the medium term (within 1 year))
Links to the social networks and / or website of the group
Your visual supports of communication: logo of the group, photos, cover of the EP
Your availability for ten consecutive days of recording and mixing at the Red House studio (La Forestière) between June 1 and August 31, 2023
A copy of the general conditions of the call for applications signed by the band: CGAP (in French)
Successful applicants will be announced in May 2023.
We look forward to hearing from you!
More info on the Summer Chance Season 3 winners: Mandelbro, The CZ, Torren