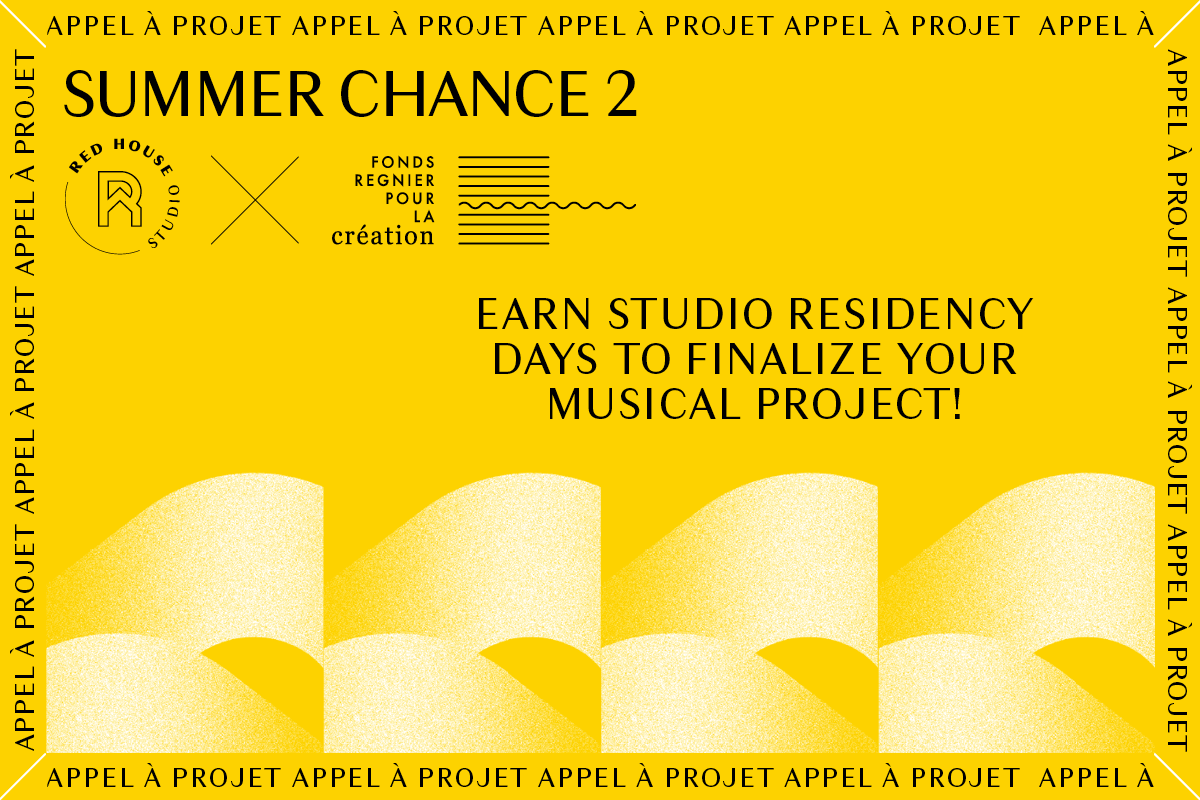 EARN STUDIO RESIDENCY DAYS TO FINALIZE YOUR MUSICAL PROJECT !
We are pleased to announce a new edition of « Summer Chance » this year from May 1st to June 30th!
You're a musician? You have a band? You have an EP project and would like to finalize it? The Red House Studio and the Fonds Régnier pour la Création give you the opportunity to realize your project in professional conditions by launching a call for applications dedicated to the musical creation.
Our vision? To help the emerging scene and support artists, bands and talented musicians who wish to achieve a musical project.
So this summer, our selection committee composed of music enthusiasts and professionals coming from the music industry will chose the promising artists who will be supported to the closest of their wills and needs.
The selection committee will be attentive to the following criteria: to be in a stake of entry in the professional environment, to have a musical project in the course of creation, originality of the composition, quality of writing, quality of instrumental and singing execution.
The winners will be able to win:
Creation residency days
Recording & Mixing of an EP
Take your chance! Submit your application to summerchance@pourlacreation.fr before June 30th 2021.
To do so, send us the links to 2 original titles or 2 videos, and provide us with the following information:
The name of your band
Your music style
The composition of the band, with surnames, first names and instruments played
Your contact details (phone, e-mails)
The creation date of your band
Your production history (concerts, recordings…)
The description of your musical project in a few lines (number of titles on EP, formation)
The medium term project objectives (within 1 year)
The needs identified to make the project successful (creation residency days, recording + mixing + mastering)
Successful applications will be announced in September, and the residencies will be able to start in the last quarter of 2021.
We look forward to hearing from you !
More about the Summer Chance Season 1 winners: LUNAR, Kids Return, Zoe's Shanghai, Black Rooster